Signature Luxury Safari
Luxury Singita Grumeti Safari in Tanzania & Seychelles
Tanzania is a wonderful safari destination:

Experience phenomenal wildlife and enjoy the impressive scenery at the Great Rift Valley.

Your safari experience:
Indulge in a luxury safari experience unlike any other at the private Singita Grumeti Reserves,
enjoying a rare exclusivity of location, not found any place else in East Africa, in uniquely authentic luxury safari tents with glamorous five-star amenities. Gaze in awe as over two-million herbivores comprising of massive herds of Wildebeest, Zebra and Impala cross the Serengeti in the great annual migration in June, trailed by a stream of Africa's great predators - Lion, Leopard, Cheetah and Hyena. At the end of it all, reward yourself with an unforgettable beach retreat on the pristine islands of Seychelles – the perfect end to your Tanzania safari!
Your Luxury Safari Highlights...

Personalized meet and assist service
On arrival in Africa and Seychelles, always experience a personalized VIP welcome and private transfer assistance by the dedicated Guided Safaris team.







Your Migration safari experience
Singita Grumeti Reserve is located along the Western corridor of the great Serengeti, encompassing 400,000 acres of unrivaled PRIVATE wilderness. The area forms part of the famous migratory route, traveled by millions of animals each year. Grumeti as a destination in itself offers a distinctive and exceptional safari experience to top off every other in a luxurious, authentic Tented Camp setting.

Sabora Plains Tented Camp feels like a glamorous 'Out of Africa' movie set.

Situated on the Serengeti plains, beautifully decorated in grand campaign 1920s style, only six lavish tented suites offer highly luxurious amenities with air-conditioning. Sabora's suites feature a master bedroom with reading area, bathroom with bath and outdoor shower, viewing deck with Swarovski spotting scope, and a common library lounge tent.

Singita Sabora Tented Camp also features a dining room, lounge, wide viewing deck, heated plunge pool, Jacuzzi, spa and store. Recently undertaken under management of Singita, Sabora carries an authoritative signature mark of classic luxury safaris and is by far the most intimate, luxurious and exclusive settings in all of Tanzania - a rare hideaway reserved for Into Seychelles guests.

Singita Faru Faru Lodge overlooks a waterhole on the greater Serengeti plains. The Singita Faru Faru suites and lodge areas reflect a contemporary feel of East Africa with luxurious amenities; the six air-conditioned suites feature glass picture-windows for lovely views of the wilderness surrounding the lodge. The suite's personal viewing deck features a Swarovski spotting scope. The Singita Faru Faru lodge areas offer a main lounge and dining room, large elevated viewing decks, a lovely pool, Singita Grumeti spa and Colonial Trading Post.

Additionally, Singita Faru Faru treats guests to an international premier wine selection – all pre-inclusive of your stay!






Your Tanzania experience
Game drives are enjoyed with the most experienced professional guides in East Africa. Safari Walks with local Maasai rangers are also offered. A unique interactive Maasai cultural village tour adds interesting background on their fascinating nomadic culture and traditions, with the option to visit their market to purchase colorful beaded jewelry and crafts designed by their maidens.

The most unique choice of activities is available at Singita Grumeti with archery and mountain biking among other options.

However, the most special of these activities is the opportunity to go horse riding in the Serengeti with professional guides, also on horseback, leading the trail – it is one of the most unique features of this luxurious safari.

Enjoy Business Class to Seychelles
Enjoy preferential seat allocation and worldly comforts aboard the Air Seychelles Pearl Class service. Sample culinary delights from International and Seychelles Creole cuisine and private in-seat entertainment from Seychelles to South Africa.




Banyan Tree Seychelles
On arrival at the Banyan Tree Seychelles, a welcome drink followed by quick, guaranteed check-in on arrival service sees you to your exquisite Beachfront Spa Pool Villa, set amid perfumed gardens with direct beach access to the inviting sea.

Intendance Bay has been voted as one of the world's most beautiful beaches with its giant granite boulders, sensual pink sand and dramatic cliffside tropical forest background. It is here that the private villas of Banyan tree Resort sprawl amid rocks and lush surrounds open to panoramic views and natural orchestra of the birds and powerful sea. The Beachfront Spa Pool Villa offers deluxe amenities for your exclusive use: a Private pool, Private spa pavilion, garden with living and dining area, pool sundeck with king-size sun loungers, outdoor jet pool, steam room, spacious master bedroom with king-size bed, His & Her vanity and bath and direct beach access from your villa.
INTO SEYCHELLES LUXURY SAFARI PACKAGE
LUXURY TANZANIA SAFARI & SEYCHELLES PRICING
Arusha (1nt), Singita Sabora Camp (3nt), Singita Faru Faru (3nt) & Banyan Tree Seychelles (5nt)



IntoSeychelles.com

Package Pricing

Private Luxury tailored to your tastes
Need to cut out a night - or change a resort? Into Seychelles does not operate groups of ANY size; All trips are fully customizable and perfected to your needs.
Let us craft your travel dreams With the
expertise of IntoSeychelles.com you are
never far from the finest travel experiences
in the world. We are here to assist you in
developing a travel plan best suited to your
interests and vacation dates. To connect
with our Travel Designers, simply give us a
call to get the conversation started: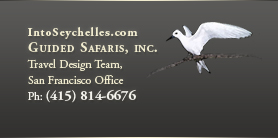 What does this package include?
5-star Luxury accommodation
Luxury safari includes all meals & drinks
All professionally-led Guided Safaris
All domestic safari air charters
All ground arrangements in Africa
Flight from East Africa to Seychelles
Price excludes:
- International airfare to Africa
- Tips & Gratuity to guides
- Personal expenditure
- Travel & Medical Insurance
Note: All pricing based on current exchange rates and subject to change without notice.

Why book with Into Seychelles?
View booking advantages

Safari & Beach trip
DAY 1:



Arrive in Africa.
ARUSHA


DAY 2:


SABORA CAMP


DAY 3:


SABORA CAMP


DAY 4:



SABORA CAMP



DAY 5:


SINGITA FARU FARU


DAY 6:


SINGITA FARU FARU


DAY 7:



SINGITA FARU FARU



DAY 8:



NAIROBI, KENYA



DAY 9:


BANYAN TREE


DAY 10:


BANYAN TREE


DAY 11:


BANYAN TREE


DAY 12:


BANYAN TREE


DAY 13:


BANYAN TREE


DAY 14:
DEPART SEYCHELLES
featured hotels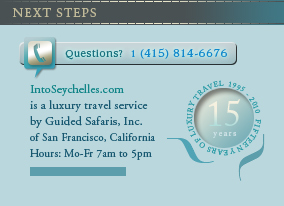 $value) { echo '
'; } ?>