Signature Luxury Safari
Luxury Paris, Singita Safari & North Island Seychelles
The perfect overture to Africa uniting a romantic escape to Paris,

one of the most romantic cities in the world, followed by a perfect African safari at Singita Private Game Reserve, ending on an exclusive private island in the Seychelles for an unforgettable beach honeymoon
Your safari experience:
In Paris, enjoy a luxury amenity on check in including a bottle of French Champagne served chilled with a box of chocolates and a bouquet of fresh roses.
Next, a luxury safari at Singita – South Africa's most exclusive private game reserve and luxury lodge, followed by a five-star beach experience at North Island in Seychelles – the most intimate private island on the Indian ocean. North Island offers unique exclusivity with large spacious beach accommodation, a vast range of recreational activities, including world-class scuba diving, and mouthwatering cuisine customized to your tastes and preferences.
Experience the very best of travel - city, safari and beach - on this memorable vacation.
Your Luxury Safari Highlights...

Personalized meet and assist service
On arrival in Paris, South Africa & Seychelles, experience a personalized VIP welcome and private transfer assistance by the dedicated Guided Safaris team.









3 Days in Paris
One of the world's most romantic cities, Paris is pure indulgence.

Hôtel de Crillon is a moment of distinction offering the warm atmosphere of a private residence yet glittering with the glamour of having hosted legendary personalities, such as Coco Chanel and many a royal family. The boutique luxury hotel offers the French "art de vivre" in a fine historic building, with the refinement of eighteenth-century decor and fully personalized service; a luxury now accessible to all those who appreciate the value of such exceptional surrounds. Each room at Hôtel de Crillon has its own individual designer decor and color scheme. All feature a large King-size bed with fine linen. The bathrooms feature Carrara marble decor, twin sinks, with bathrobes, towels, and slippers embroidered with the hotel's crest. Annick Goutal perfumed toiletry products complete the bath amenities.

The Crillon is in a class of its own: The main restaurant Les Ambassadeurs is one of the finest dining experiences in Paris. L'Obe is a delightful French experience offering a contemporary and relaxed atmosphere in a setting that fast become the leading venue in the fashion and art district for a convivial lunch or romantic dinner. The winelist at Crillon is a world-acclaimed affair - from easy wines-by-the-glass to exquisite vintages in ever-alluring magnums, there's sure to be a few to delight your palette. The star-studded, intimate bar scene at the Crillon is always a magical start to the perfect evening. With sumptuous cocktails, gourmet bar snacks and live piano music the atmosphere is set for a classy Parisian night in town.

Just a step away from the beautiful Hôtel de Crillon, you'll discover the Champs Elysees, Louvre museum, Jardin de Tuileries, Grand Palais, all the extraordinary high-end luxury boutiques of rue du Faubourg Saint Honoré and Rue Royale, both standing as world-wide symbols of Haute Couture and Parisian chic, and the decadent Paris Theatres & Opera. This is the perfect location for art, culture and fashion enthusiasts.

Enjoy IntoSeychelles Signature Concierge service at the Crillon to design an itinerary through the city, winelands and further afield, if you like. The 24/7 concierge at the Crillon offer an exceptional range of contacts to arrange your every whim. Whether its a concert, the theatre, a gallery opening or a last-minute table for two, Hôtel de Crillon ensures you experience the best Paris has to offer.


Luxury Adventure Safari
Singita Boulders lodge offers one of the finest luxury African safari experiences in the world. Unmatched by any other resort for their first-rate service and elegant accommodation facilities, your African wildlife adventure at Singita will be an unforgettable travel experience. Awake at dawn to embark on exciting safaris that lead you into the heart of the Sabi Sand in a private 37000-acre game reserve to encounter lion, leopard - all the plentiful game - in a natural African eden.


Royal African Treats on safari
Our exclusive Into Seychelles signature safaris feature romantic indulgences with an extra special flair throughout your stay at Singita Game Reserve: From Private Bush Dinners under the African sky, surrounded by hundreds of lanterns, romantic suite turndowns with freshly-drawn bubble-baths, to private wine tasting at the luxurious Singita bush cellar, you will be pampered at Singita Boulders Lodge with a true 'Out of Africa' experience...with compliments of Into Seychelles.

Fly Business Class to Paradise
Enjoy preferential seat allocation and worldly comforts aboard the Air Seychelles Pearl Class service. Sample culinary delights from International and Seychelles Creole cuisine and private in-seat entertainment from South Africa to Seychelles.

Arrive in style: Private helicopter flight to North Island
On arrival in Mahe, Seychelles you will be welcomed by our on-ground crew. As the helicopter takes off, your visit in paradise elevates to seventh heaven - a short, incredibly scenic, flight away lies the exquisitely beautiful North Island; your home for the next few nights.





Private island experience
Aimed at providing the very best in exclusivity and luxury, North Island is considered as one of the most beautiful & unique destinations on Earth. North Island Seychelles is a rare sanctuary for couples seeking a pristine tropical haven on a large private island in the vastness of the warm, blue Indian Ocean, surrounded by forest wilderness that echoes with the calls of the rarest birdlife in the world.

Only 11 luxury beach villas on the entire island, each constructed to create a sensorial experience in surroundings of understated elegance, offer panoramic views and direct beach access right before the living areas. Your stay at North Island Seychelles is inclusive of all meals, house wines and beverages, along with a huge choice of complimentary activities such as scuba diving (two dives per day), guided walks / hiking, snorkeling, fishing, boating, kayaking and mountain biking.

The North Island Spa, perched high above the beach with stunning views of the ocean, specializes in personalized holistic treatments to rejuvenate the body, mind and soul.


Gourmet indulgences at Paris, Singita & North Island
Mouthwatering gourmet meals are accompanied by fine wine at both North Island and on safari Singita, all inclusive of your stay. Our guests receive a bottle of champagne to toast to a magical safari experience. North Island features a special 'no-menu' concept, whereby the chef meets with you on arrival to discuss your tastes and favorite dishes to customize a special menu, just for you throughout your stay, with special ingredients flown-in daily.
INTO SEYCHELLES LUXURY SAFARI PACKAGE
PARIS, SINGITA SAFARI & SEYCHELLES PRICING
Hôtel Crillon, Paris (3nt), Singita Boulders (4nt) & North Island Seychelles (3nt)



IntoSeychelles.com

Package Pricing

Private Luxury tailored to your tastes
Need to cut out a night - or change a resort? Into Seychelles does not operate groups of ANY size; All trips are fully customizable and perfected to your needs.
Let us craft your travel dreams With the
expertise of IntoSeychelles.com you are
never far from the finest travel experiences
in the world. We are here to assist you in
developing a travel plan best suited to your
interests and vacation dates. To connect
with our Travel Designers, simply give us a
call to get the conversation started: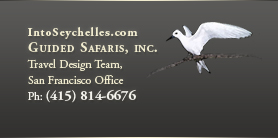 What does this package include?
5-Star Luxury Resort accommodation
Enjoy daily breakfast in Paris
Singita includes all meals & drinks
Guided safaris at Singita Boulders
Business class flight to Seychelles
Private helicopter to North Island
North Island includes all Meals & Drinks
Price excludes:
- International airfare to Paris/Seychelles
- Tips & Gratuity to guides
- Personal expenditure
- Travel & Medical Insurance
Note: All pricing based on current exchange rates and subject to change without notice.

Why book with Into Seychelles?
View booking advantages

Safari & Beach trip
DAY 1:


Arrive in FRANCE.
Hôtel de Crillon, PARIS


DAY 2:


PARIS


DAY 3:

PARIS

DAY 4:


SINGITA BOULDERS


DAY 5:


SINGITA BOULDERS


DAY 6:


SINGITA BOULDERS


DAY 7:
SINGITA BOULDERS

Flight to Seychelles


DAY 8:


NORTH ISLAND


DAY 9:


NORTH ISLAND


DAY 10:
NORTH ISLAND
DAY 11:
DEPART SEYCHELLES
featured hotels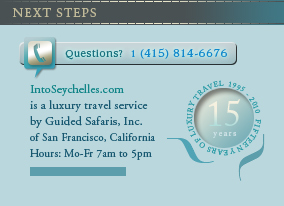 $value) { echo '
'; } ?>