Signature Luxury Trip
Raffles Praslin: Luxury + Romance in Seychelles
This is the ultimate experience

for those empassioned to enjoy the privileges of a Raffles lifestyle and the pleasures of an elevated scale of luxury
Your beach experience: The Seychelles, to the discerning luxury traveler, is synonymous with the world's most beautiful islands and beaches. As nature intended – it's one of the world's best-kept secrets and ranks amongst the purest destinations anywhere. So pure indeed, that the second largest island, Praslin, was once thought to be the Garden of Eden. Now, surrounded by the world's most pristine beaches, framed by primeval forests and brilliantly clear ocean waters, it is home to the legendary Raffles. An extraordinary setting for 23 exceptional villas with superlative views of the Indian Ocean - Raffles Estates. Truly, paradise reborn. In keeping with the Raffles brand promise to bring residents endlessly enchanting experiences, Raffles has created a new suite of premium branded hospitality services to complement the legendary Raffles brand of hotels and resorts. Each is designed to enrich lifestyles by bringing the essence of Raffles beyond the doors of the hotels and into the home.
Your Luxury Travel Highlights...

First class meet and assist service
On arrival in Seychelles, experience personalized welcome and VIP assistance by the Guided Safaris & Raffles hotel team.


Luxury Beach Adventure
On course for an exciting
opening in February 2011
, The Raffles Praslin Seychelles will be offering an array of relaxing and exhillirating pursuits, from water sports to island-hopping and golfing representing the very best of the Raffles resort and the lovely island of Praslin - home to some of
the world's most extraordinary beaches.
The 30-hectare Raffles Praslin is situated on the excluisve North-Eastern tip of Praslin Island. The Raffles Praslin resort enjoys a generous 500-meter stretch of pure-white sand beach with crystalline clear, jacuzzi-warm waters ideal for a swim and a variety of water sports such as snorkelling, scuba diving, canoeing and kayaking, sailing and more. Flanked by the nearby Curieuse island, the shoreline of Raffles Praslin's Anse Takamaka stretches out to the Curieuse Marine National Park where lively marine species thrive in abundance.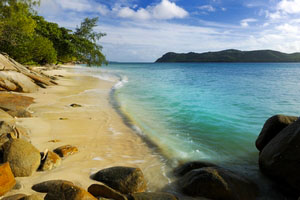 Golfing Paradise in Seychelles
Golf enthusiasts will be thrilled with a game of golf at the only 18-hole championship golf course on the island, known for its challenging par-70 course surrounded by remarkable topography and flora and fauna. To capture the full beauty of Praslin from the aerial view, embark on a chartered helicopter for an exhilarating journey high above.


Extraordinary Natural Spectacles in Praslin
The legendary Vallée de Mai, namely one of the two UNESCO World Heritage Sites in Seychelles, is an attraction not to be missed. Found no where else in the world except in Praslin are the magnificent Coco de Mer palms, growing wild in glorious abundance, bearing fruit to the world's largest seeds in the world. Other endemic plants and animal species such as the rare Seychelles Black Parrot can also be seen at Vallée de Mai - once believed to be the original site of Eden.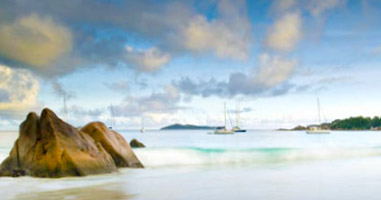 Gourmet Indulgence at Raffles Praslin
On Praslin, the Raffles team is on hand to assist with the planning of the most unforgettable private dining experiences at any imaginable locations on the island or in the privacy of the resort. Savour a gastronomic meal atop the granite boulders or a family picnic on the pristine beaches, the varied landscape of the island offers countless outdoor dining venues with excellent tropical ambiance and romance.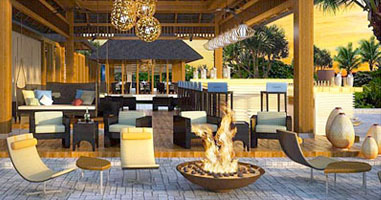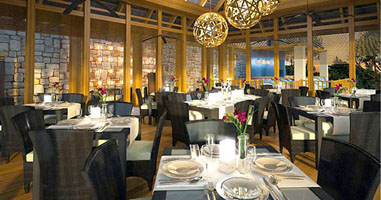 Luxury Spa Delights
Immerse in the tranquil oasis at Raffles Praslin delighting in a complete spa indulgence at the Raffles Spa. Nestled amidst lush greenery and luxuriant grounds, the spa offers a myriad of spa treatments and services, ranging from rejuvenating body massages and deep cleansing facials to uplifting hair and beauty services. The stunning vistas from every window within the 13 intricately-designed treatment pavilions grant an added dimension to the enlightening spa journey for one to embark on. The Spa Pavilion provides the perfect enclave for the meditative discipline of yoga with a private instructor or at your leisure.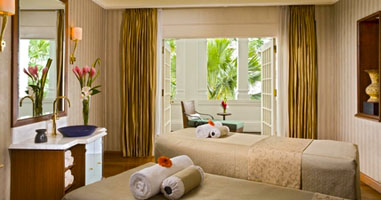 Elegant Raffles Resorts Accommodation in Praslin
The 5-Star Raffles Praslin resort features 86 villas designed as contemporary residences, each styled with a private plunge pool and an expansive private outdoor pavilion with seaviews. The upgraded one-bedroom and two-bedroom Villa Suites are equipped with a private barbecue grill in the outdoor pavilion to have the gourmet chefs indulge you with private in-suite dining. The ugraded Villas are among some of the most spacious in the Seychelles with an expansive 125 square meters of private space built along gentle slopes overlooking the beautiful ocean.
Villa Layout & Features
Bedroom with king-size down feather bed and duvet cover (hypo-allergenic bedding on request)
Private plunge pool
Resident's bar with wine and Champagne
Open-air balcony with sundeck chairs
Outdoor sheltered pavilion with day bed and dining table; also equipped with additional resident's bar
Barbecue grill on the outdoor sheltered pavilion for Villa Suites
Separate bathroom and toilet facilities
Daylight in bathrooms and bath tubs with a view
Outdoor rain shower
Double walk-in closet
Electronic safe
42-inch plasma television and DVD player
Wireless internet access indoors and outdoors
A sound bar and plug-and-play facilities for MP3 players
Bedside lighting control and service panel
Nespresso coffee machine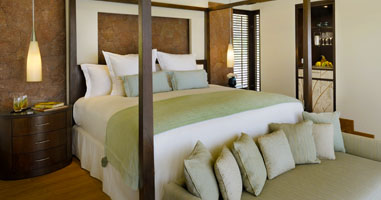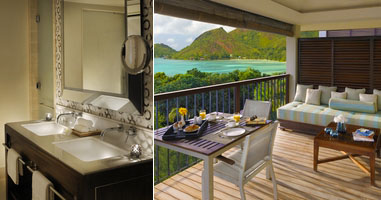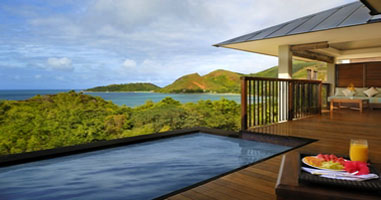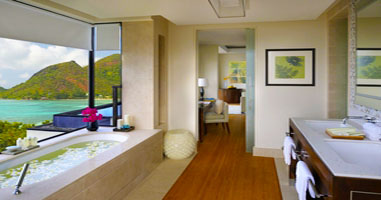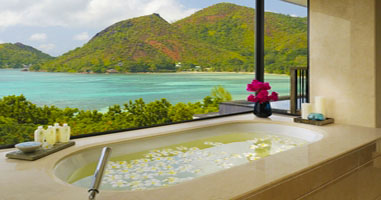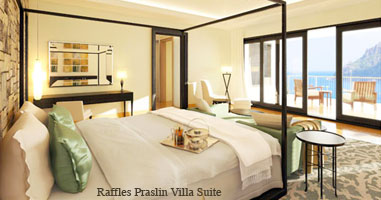 About Raffles Hotels & Resorts Collection
Raffles' relentless pursuit of service excellence has earned its hotels and resorts a legion of international accolades, including Condé Nast World's Best Places to Stay and Travel & Leisure World's Best Awards. Its flagship Raffles Hotel Singapore was voted Best Hotel in Asia for four consecutive years by readers of Ultratravel magazine by The Daily Telegraph while Raffles Beijing Hotel was named Best Luxury Hotel by Travel Weekly China in 2009. In addition, Raffles Hotels & Resorts is consistently ranked among the world's top 10 hotel brands in the annual Condé Nast Traveler Business Travel Awards.

Residence Services
24-hour Raffles Butler service
24-hour in-villa dining
International newspapers
Limousine transfer
Local excursions, outdoor activities and water sports

INTO SEYCHELLES LUXURY BEACH PACKAGE
Contact our Raffles Praslin desk for latest opening-deals:
Call 1.415.814.6676 ext 1 (US Pacific time 7am to 4pm)
In celebration of the grand opening, IntoSeychelles.com offers guests a range of complimentary amenities in an introductory special for Raffles Praslin. Until 30th April 2011, guests will enjoy round-trip airport transfers, buffet breakfast for two, 60-minute Raffles Spa treatment for two and a complimentary visit to a local attraction. A minimum stay of 4 nights required.

*Sorry, no Travel Agents or Third-party requests please - opening promotions applicable to direct guest bookings only for a limited-time.
Private Luxury tailored to your tastes
Need to cut out a night - or change a resort? Into Seychelles does not operate groups of ANY size; All trips are fully customizable and perfected to your needs.
Let us craft your travel dreams With the
expertise of IntoSeychelles.com you are
never far from the finest travel experiences
in the world. We are here to assist you in
developing a travel plan best suited to your
interests and vacation dates. To connect
with our Travel Designers, simply give us a
call to get the conversation started: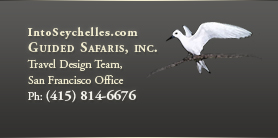 What does this package include?
5-Star Luxury Raffles accommodation
Roundtrip airport transfers
Daily Buffet Breakfast for two
One 60-min Raffles Spa Treat for two
One visit to local attraction
(details with offer)
Price excludes:
- International airfare to Seychelles
- Meals, drinks & laundry service
- Tips & Gratuity to guides
- Personal expenditure
- Travel & Medical Insurance
Note: All pricing based on current exchange rates and subject to change without notice.

Why book with Into Seychelles?
View booking advantages

Luxury beach trip
DAY 1:


Arrive in Seychelles.
RAFFLES PRASLIN
DAY 2:
RAFFLES PRASLIN
DAY 3:
RAFFLES PRASLIN
DAY 4:
RAFFLES PRASLIN

Return flight home


featured hotels